Get Well Flowers
Need to send some cheer? You've come to the right place.
At Petal to the Metal Flowers, we understand the joy flowers can bring to brighten any home or hospital room.
Give us a call today and we can help you plan the perfect bouquet for a Get Well or Cheer Up occasion.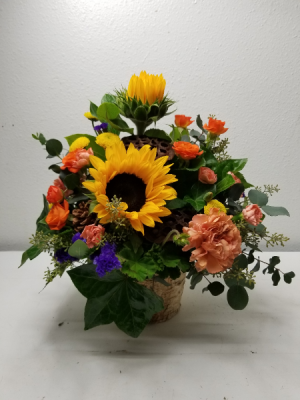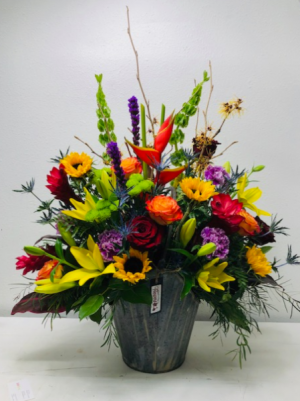 Gorgeous & Grandiose
Container Arrangement
This stunner is a must-see in person. It is full of our freshest and bright colored flowers of the season, including tropicals, sunflowers, roses, lilies and more. Guaranteed to be a show-stopper in any home or office.
More Info
Hospitals and Health Care Providers in Our Delivery Area:

| Name | Address | Phone |
| --- | --- | --- |
| Baycrest Village | 3959 Sheridan Ave North Bend, OR. 97459 | (541) 756-2223 |
| Evergreen Court Retirement | 451 Oconnell St North Bend, OR. 97459 | (541) 756-4466 |
| Inland Point Assisted Living | 2290 Inland Dr North Bend, OR. 97459 | (541) 756-0176 |
| St Catherine's Residence | 3959 Sheridan Ave North Bend, OR. 97459 | (541) 756-4151 |
| Bay Area Hospital | 1775 Thompson Rd Coos Bay, OR. 97420 | (541) 269-8111 |
| Life Care Ctr Of Coos Bay | 2890 Ocean Blvd Se Coos Bay, OR. 97420 | (541) 267-5433 |
| Ocean Crest Assisted Living | Po Box 89 Coos Bay, OR. 97420 | (541) 888-2255 |
| Ocean Ridge Assisted Living | 1855 Se Ocean Blvd Coos Bay, OR. 97420 | (541) 267-4000 |
| South Coast Hospice | 1620 Thompson Rd. Coos Bay, OR. 97420 | (541) 269-2986 |
| South Coast Orthopedic Assoc | 2699 N 17th St Coos Bay, OR. 97420 | (541) 269-7358 |
| Coquille Valley Hospital | 940 E 5th St Coquille, OR. 97423 | (541) 396-3101 |
| Country Garden Senior Residence | 56631 Levi Bunch Rd Coquille, OR. 97423 | (541) 396-4359 |
| Oerding Manor | 620 W Central St Coquille, OR. 97423 | (541) 396-2722 |
| Redwood Terrace | 685 E 4th St Coquille, OR. 97423 | (541) 396-5762 |
| Lower Umpqua Hospital | 600 Ranch Rd Reedsport, OR. 97467 | (541) 271-2171 |
| Timber Ridge Retirement Ctr | 660 Ranch Rd Reedsport, OR. 97467 | (541) 271-0113 |